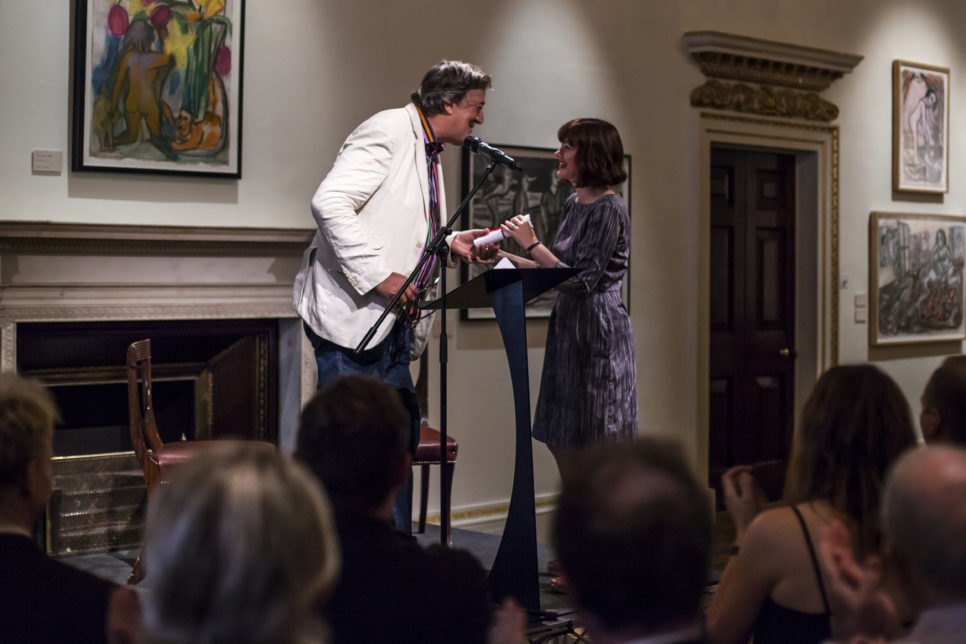 Stephen Fry announces Bethan Roberts as winner of the RA & Pin Drop Short Story Award 2015
27 June 2015
Stephen Fry, at a special event at the Royal Academy of Arts, narrated Ms. Featherstone and The Beast by Bethan Roberts, the winner of the inaugural RA & Pin Drop Short Story Award. You can listen to Stephen's narration here.
Stephen Fry commented: "Pin Drop is a wonderfully innovative scheme that unites the written arts with the visual. In iconic venues like the Royal Academy, new and established writers have their works read, discussed and questioned by enthusiastic audiences. The presence of the written word in public spaces filled with visual art reminds writers, whose work is so often private and inward, of the capacity of literature to reach out, uniting it with the family of all the arts where it belongs. I really believe in Pin Drop and felt immensely rewarded to be involved."
The quality of the entries of this year's award was high and varied and included a cast of wonderful characters from life models to lion tamers. Returning a shortlist of exceptional quality, the judges selected six stories which each do what a good short story should do: invites us into their world, engages from the first sentence and ends up telling us something about ourselves. In such a competitive field, we needed a truly exceptional winner and our choice was unanimous. Bethan Robert's evocative story Ms. Featherstone and The Beast, is both tender and poignant. It deals with big themes – love, war and loss of innocence – with a restrained lightness of touch. And, like all the best short stories, its impact lingered and continues to do so.
Bethan's first novel The Pools was published in 2007 and won a Jerwood/Arvon Young Writers' Award. Her second novel The Good Plain Cook, published in 2008, was serialized on BBC Radio 4's Book at Bedtime and was chosen as one of Time Out's books of the year. My Policeman, the story of a 1950s policeman, his wife, and his male lover, followed in 2012, and was chosen as that year's City Read for Brighton. Her latest novel is Mother Island. She also writes short fiction (in 2006 she was awarded the Olive Cook short story prize by the Society of Authors), and drama for BBC Radio 4. She lives in Brighton with her family.
The judging panel included Pin Drop co-founders Simon Oldfield and Elizabeth Day, and the Royal Academy's Director of Artistic Programmes, Tim Marlow.