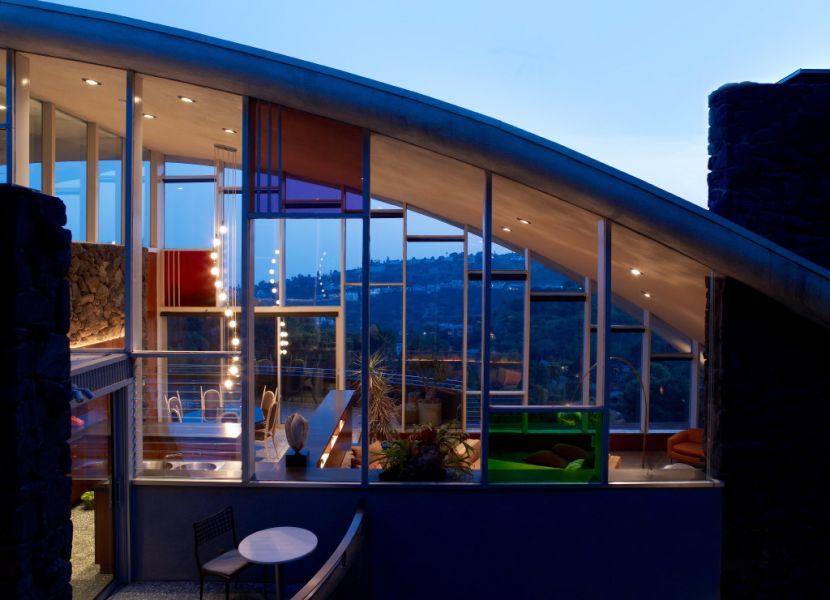 John McIlwee at The Lautner Compound, Palm Springs
15 February 2020
Join owner John Mcllwee, Hollywood business manager and Pin Drop Studio board member, as he shares his insights on the restoration of the 1962 Garcia House, designed by John Lautner and perched in all of it's rainbow-shaped glory above Mulholland Drive. In 2002 the home undertook a complex and multiyear renovation spearheaded by the architecture firm Marmol Radziner.
John will discuss both the challenges and the rewards of rehabilitating what some consider one of the most iconic Los Angeles homes of all time. "People don't look at this as just a house, because you can easily get bigger places with more square footage and more land. They see it as a piece of art – a weird jewel box, sitting on stilts, high up above the whole canyon."  The talk will include "before and after" photographs which will highlight the full magnitude of the property's magnificent transformation.
Forming part of Modernism Week, the event is hosted by artist Danny Heller, the ticket price will include a tour of a Lautner Living Unit, The Lautner grounds, The Park and The Ranch House which comprise the compound, followed by a champagne toast. A portion of the proceeds will benefit the John Lautner Foundation, striving to preserve the Lautner archive; educate the public on the architecture of Lautner; and provide support for preservation, protection and maintenance of all Lautner structures.