Interview: Elizabeth Day on her new novel, The Party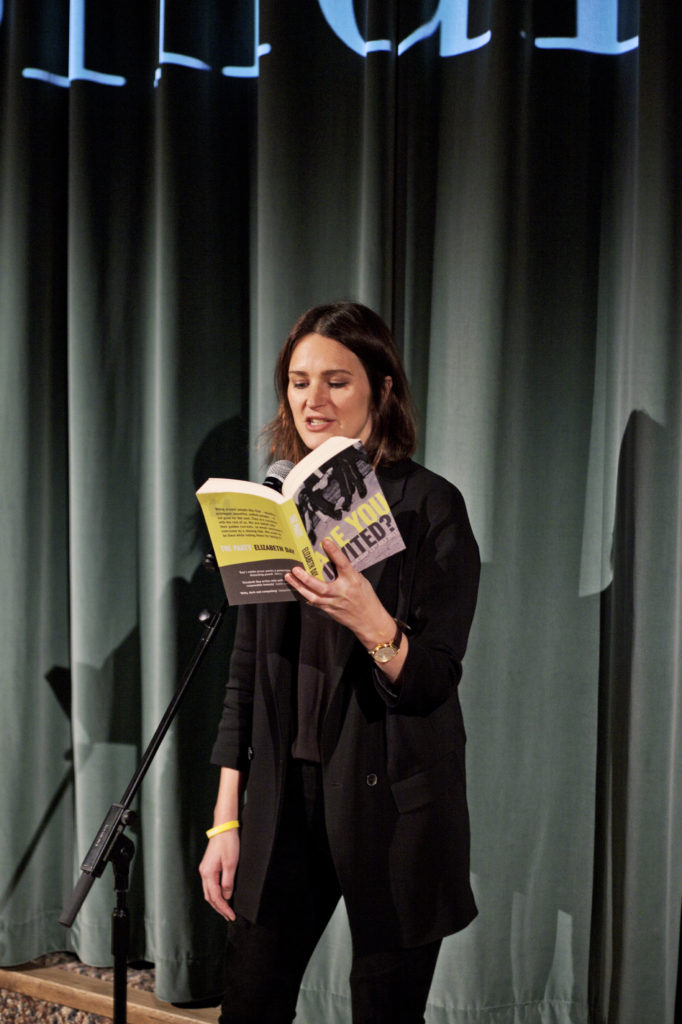 Elizabeth Day is an award-winning author and journalist, regularly contributing features for UK and US publications including New York Magazine and Vogue. Elizabeth is also a Co-founder of Pin Drop Studio, and with this month's release of her widely anticipated fourth novel, The Party, we invited her to Pin Drop HQ for a chat.
///
You are a prolific tweeter, can you describe The Party in 140 characters.
Man becomes dangerously obsessed with his best friend. Tensions brew. Explosive drama ensues. Talented Mr Ripley meets Brideshead Revisited.
Tell us about a party that has left a lasting impression on you and was there a specific event that provided the key inspiration for The Party?
No, there wasn't a specific event that inspired The Party but my first job in newspaper journalism was as a diarist for the Evening Standard and it was my job to attend all sorts of glamorous events, bowl up to celebrities I'd never met before and ask them questions in the hope of getting a story for the next day's edition.
I went to some amazing parties with that job. I danced on a superyacht at the Cannes Film Festival, went to the premiere of the first ever Lord of the Rings film and met the most dazzling array of people from Denis Thatcher to Pierce Brosnan, Kate Winslet and Maggi Hambling.
The party that has left the most lasting impression on me was a Christmas party held by my lovely friend a couple of years ago at which I met her brother, who is now my boyfriend. Of course I'm going to remember that one the most!
The Party marks a shift in tone and style from your previous novels, how did this come about?
Well, every novel I write is different so I'm not sure there's a shift in tone, in that I still write in the same style and I'm still fascinated by what makes people tick and the hidden darknesses that lie beneath the surface. But The Party is more plotty than my previous novels, in that it follows the same structure as a thriller or psychological suspense, partly told in flashback and opening with a police interview. Plot is hard to master, which is why it's taken me four novels to get there!

You are a regular visitor to the US. What would you say are the main differences in attitudes towards social structures and personal aspirations between the US and the UK?
As much as we'd like to think we've left it behind, I still think Britain is hidebound by class, which is why it's a major theme in The Party. The notion of what constitutes an 'elite' has shifted slightly – from hereditary peerages to our more modern obsessions of wealth and fame – but there remains a strong notion of aspirational exclusivity. We're not as socially mobile as we should be, and in many cases it feels as though we're defined by our backgrounds for much of our lives.
America has its' own social problems, but one thing I found when I was there is that the hierarchies are flatter. There's a sense of possibility you can feel almost as soon as you walk off the plane. The American dream is founded on the notion that anyone can achieve almost anything if they work hard enough. People are more willing to take a meeting or a phone call from someone just starting out; whereas that sometimes feels difficult to do in Britain.
What is your favourite book from your favourite author?
Impossible to whittle it down to just one, I'm afraid. But Bonfire of the Vanities by Tom Wolfe is definitely up there.

Who is your literary hero?
Elizabeth Bennet in Pride & Prejudice: she's bright, funny, charming, headstrong and a woman before her time. Plus we share the same name. How could I not love her?
You've said you like to write your novels in St. Ives, Cornwall – what makes this a special place for you?
Simon Oldfield, with whom I co-founded Pin Drop, and his husband were the ones who first introduced me to the magical quality of the light down there. I also love the fact that it's a (beautiful) five-hour train journey from London – far enough to feel removed from the stresses of city life and yet not so far as to feel entirely out of it. Writing is a solitary activity, so I like to write surrounded by the bustle of other people – in St Ives you can get a great coffee at The Digey but you can also go for a wild walk along the clifftops. It's also very inspiring that some of the artists I most admire have found their own creative stimulus there – I'm thinking particularly of Barbara Hepworth and Virginia Woolf.
You have a wonderful art collection. Is there a connection between your writing and the art you choose to have in your life?
It's very grand to call it a collection, but thank you! Yes, the connection is a practical one – with every book advance I get, I buy a piece of art I love. It has to be something I love, rather than something of monetary value. But there's obviously a more esoteric connection too in that looking at a work by an artist I find intriguing or compelling is a great way of recharging my senses.
I've already mentioned Barbara Hepworth but she said this great thing about her sculpture being about finding the essence of the material she was sculpting from; so that rather than making it into something else, it was about revealing its essential qualities. I love that idea and it continually inspires my writing.
As the co-founder of Pin Drop Studio, you are a champion of the short form. Will we be seeing any short stories from you soon?
Yes, I'm writing one for Pin Drop's debut collection, A Short Affair, to be published by Scribner/Simon & Schuster in 2018.
Pin Drop Studio specialises in presenting great short fiction read aloud, if you could have a story read to you by anyone, who would it be and what would they read?
If I could resurrect him, Charles Dickens reading A Christmas Carol would be quite something. He was meant to have been a gifted performer of his own work. Or I'd have Katherine Mansfield reading one of my favourite short stories of all time, The Late Colonel's Daughters. One of the most memorable Pin Drops we organised featured Julian Barnes reading his short story Complicity and that was spellbinding too.
'The Party' by Elizabeth Day is published by 4th Estate. Order your copy here